td,
.listing-build-item table tr>th {
padding: 10px 14px !important;
font-size: 14px !important;
border: 1px solid #cbcbcb !important;
background-clip: padding-box !important;
position: relative !important;
letter-spacing:initial !important;
text-align: left !important;
}
.listing-build-item table tr>th {
font-weight: 600 !important;
}
.listing-build-item h3 {
color: #000 !important;
font-size: 20px !important;
font-weight: 600 !important;
margin: 0 !important;
padding: 10px 0 !important;
text-align: left !important;
}
.listing-build-item table th,.listing-build-item h5{
color:#000 !important;
}
.listing-build-item {
margin-bottom: 30px !important;
word-break: break-word !important;
}
.listing-build-item ul,
.listing-build-item dl {
margin: 0 !important;
padding:0 !important;
list-style:outside none !important
}
.listing-build-item .img-box {
margin: 10px 0 !important;
}
.listing-build-item .img-box img {
height: auto !important;
max-width: 100% !important;
margin: 0 auto !important;
padding: 0 !important;
display: block !important;
}
@media screen and (min-width: 992px){
.listing-build-item table tr>th {
width: 180px !important;
}
}
@media screen and (max-width: 750px){
.listing-build-item table tr>th {
width: 100px !important;
}
}
.listing-build-item tr:first-child th:after,
.listing-build-item tr:first-child td:after {
border: initial !important;
}
.listing-build-item ul>li:last-child,
.listing-build-item ul.features>li:last-child,
.listing-build-item ul>li.package-row:last-child {
margin-bottom: 0 !important;
}
.listing-build-item ul.features li,.listing-build-item ul li.package-row{
margin-bottom:7px !important;
}
.listing-build-item h5{
margin: 20px 0 5px 0 !important;
font-weight: 600 !important;
text-align: left !important;
}
.listing-build-item strong{
font-weight: 600 !important;
}
-->

Don't worry about a single breakfast, take the Egg Frying Ring home, and start your imagination!
Main Features
[Leak-free Perfect Looking Eggs] Egg ring is quick and easy to cook, and it not only makes the eggs less leaky but also keeps the eggs round. Just lift up the small handle, place it on your electric griddle or frying pan, and get to cooking!

[Multipurpose Use] The egg ring can customize hamburgers, bread, fruits, jellies, eggs, omelets, biscuits, pancakes, bacon, potatoes, crepes, and various desserts. A must-have practical kitchen tool for every family!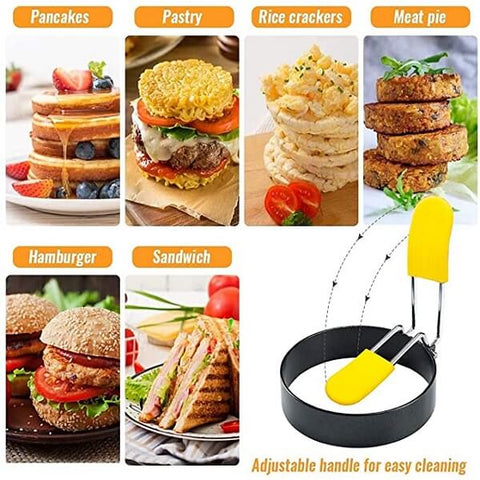 [Anti-scald & Folding Handle] The handle comes with a silicone cover for anti-scald holding, convenient for cooking, the foldable design is convenient for storage, not take much space.

[Safety Stainless Steel] The egg ring is made of non-toxic and tasteless stainless steel, premium BPA free coating keeps foods from sticking. It can help you to make a round omelet egg perfectly, achieving safe and healthy low-fat cooking.

[Easy To Clean] Due to the stainless steel material and the non-stick coating of the egg ring, it does not produce extra rubbish, smooth surface, can be quickly cleaned with a small amount of soap and water. Dishwashers are also safe.
Specifications
Product Weight

Package Size
(L x W x H)

Package Contents

Color
Black
Material
Stainless steel, iron, BPA free coating, silicone
Diameter
7.5CM




Note
Due to the different display and lighting effects, the actual color of the item may be slightly different from the color displayed on the picture.
Due to manual measurements, please allow slight measurement deviations.